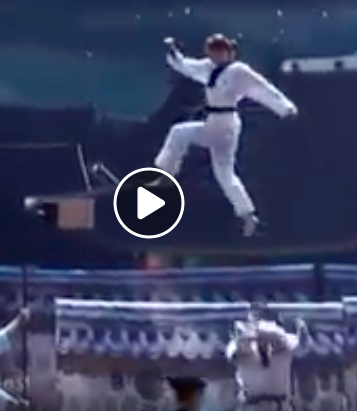 My Mother Martial Art of Tae Kwon Do as seen on World's Best the TV show. Its amazing how Tae Kwon Do training and demonstration skill has grown since the Kwon's came together in 1973 to form the "Kukkiwon". I remember going to the Kukkiwon when I was in Seoul in 1986, taking a cab with the directions from the hotel concierge and arriving at the hill that you have to walk up to Kukkiwon TKD Headquarters. I was standing on the corner and a man I didn't know put his umbrella over me to shade me from the sprinkle that was coming down. He spoke to me in English, after I said Kam Sam Ni Da "Thank you". He said "you are American" I said yes and he said: "where are you going?" I said "up to the Kukkiwon sir", and he smiled and said: "Its just up that hill", he walked me across the street holding the umbrella over me. I bowed and said: "thank you sir.." He said "your welcome, we love your beautiful country". I smiled and headed up the hill. Only to learn years later that because we came to save South Korea from becoming occupied entirely as it was from 1904 by the Japanese… that Korean's of a certain age call the USA "the beautiful country" because we saved them from being totally occupied and enslaved by the communists in the Korean War. My father helped train the ROK air force from 1950 to 1953.
So to continue on with my experience I climbed the hill and found my way around the Kukkiwon. Hearing loud cheers, I went around and found a High School tournament going on at the training hall and some highly skilled athletes competing. I found a place in the stands and set up my video camera. It was amazing seeing all the high schools and their team supporters wearing their school colors in sections cheering for their schools top Tae Kwon Do fighters "Players" in the tournament. They treated me with curiosity as they allowed me to see their tournament progress. They didn't speak a word of English, and I only understood some Korean at that time. But a smile is a language that is understood anywhere in the world.
Years later I would meet my Grand Master In Kon Park. One of the founders of the Kukkiwon. He helped me engage in Tae Kwon Do competitions around the world and I continued my training and I became a Grand Master. He also allowed me to be a Coach of the US Eagles Tae Kwon Do Demonstration Team. I trained and became an International Referee for the World Tae Kwon Do Federation. I was also able to continue my training in Hap Ki Do and become a Grand Master in Hap Ki Do as well. I love all Martial Arts and highly recommend training as part of the education of all children. It should be a part of all Elementary and High School curriculums. I still support all styles and Masters that teach after school programs all over the US and around the world. The Martial Arts establish core values and discipline that can only be learned in such an environment.
Martial Arts schools have become more of a business in the 21st century and that is a shame. However, I can tell you that there are still great schools and Masters out there and I hope you find a school in your area and start your journey today.
Check this out…