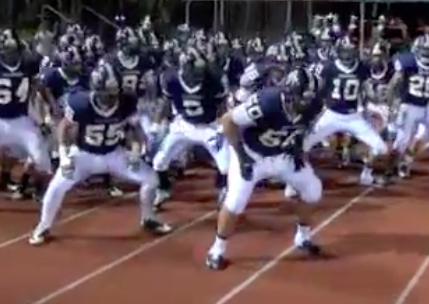 In Hawaii football and other sports as well as the Martial Arts are a part of life for the locals. The Kama-Aina as they refer to themselves are "part of the land". Kamehameha's Haka done here in the YouTube video below by the Waikea Warriors High School Football team embodies the Warrior spirit. It is followed by a group prayer, in which the young men pray to the Lord. Asking for victory but understanding that in defeat they will stand alone. At the end of the prayer the Team Captain which looks to be the Center or Full back states "Day by Day… We get better and better… We can't be beat!" and the team repeats in unison. Showing spirit and being brave is part of the Hawaiian way of life.
Kamehameha was the only King to Unify the Hawaiian Islands. He was a great ruler, and knew about conservation and divided the land from the mountains to the sea in to what would look like slices of pie… allowing for one area to be completely self sufficient but allow those areas nearby to assist in times of need. He instituted "Kapu Law", making all crimes punishable by death. Kapu means "forbidden". He also showed mercy and instituted the Paddle law as well, which I will leave you to look up. Kapu law also allowed for sanctuary for those who broke the law if they made it to certain places.
A "Heiau" or temple is sacred ground. It is where gatherings and rituals were performed. The beliefs of the Native Hawaiians are part of the Island culture that developed at one time allowing for more than 1,000,000 people to exist in prosperity. In some instances human sacrifices were made in a Heiau. A Heiau is made in different architectural styles depending upon their purpose and location, they range from simple earth terraces, to elaborately constructed stone platforms. There are Heiau to treat the sick (heiau hōʻola), offer first fruits, offer first catch, start rain, stop rain, increase the population, ensure the health of the nation, achieve success in distant voyaging, reach peace, and achieve success in war (luakini).
One such Heiau was destroyed recently by Pele in the area of Kapoho from the most recent lava flow in Puna, on the big island of Hawaii in May of 2018. I sold my house that just happened to be located between Fissure 10 and 9 in July of 2017. Fissure 8 destroyed more than one third of Leilani Estates and completely destroyed Kapoho vacation land, the warm ponds and a Heiau located by the sea. The spirit of the land and the feeling I got when I first macheted my way into the property on which I built my home was the same spiritual connection that told me it was time to go. My house was spared, but houses just 800 ft from my old home on Malama Street and more than 1,000 other structures were destroyed. My good friends in Leilani are slowly recovering from this event, and all I can say is how proud I am to have been a Hawaiian for just a little while.
I was told by some big Kahunas and Kanakas in Hawaii that I had a "Hawaiian Heart" that I embodied the warrior spirit along with the Aloha that is slowly dying in the Islands today. As the Native Hawaiians did when the first foreigners discovered Hawaii, bringing with them disease and vermin, such as rats, and also old world pigs which are still thriving. I shot many boar with my compound bow right in my own back yard. Of course offering the animal prayers and its earthly remains to the locals who were happy to take it and use every part of the animal to make "smoke meat" "pulled pork" and other delicacies. I hope and pray that the Ha'oles and the Native Hawaiians who still live there, as I once did, help each generation to keep the Native traditions and values alive and allow the Native Hawaiians to prosper. Ha'ole means "without breath" and all foreigners are spoken of as this, because we do not touch foreheads and share breath when we greet each other. Rather extending our hands to shake hands or wave hello.
Football or Martial Arts are ways which allow the warrior in all of us to learn through hard training and develop our minds, bodies and spirits. To work together and to stand alone with honor.
I miss Hawaii, but love my new life in Clearwater, Florida. I hope to visit the big island of Hawaii one day soon and pay my respects to the land and my dear friends in Pahoa. Until then you remain in my heart forever.
Aloha Nui Loa!